Cummins Rail expands clean diesel offerings with QST30 Tier 4 locomotive power module
Cummins Inc. is expanding its offerings in the rail market segment with the addition of the clean and reliable QST30 Tier 4 locomotive power module.
The Cummins QST30 locomotive power module features an engine, alternator, selective catalyst reduction (SCR) system and radiator kit with other engine-related components, all on one standard frame. With power from 1,000 to 1,500 horsepower, the QST30 is ideal for retrofitting locomotives with an arrowhead. Reduce fuel consumption and qualify for state EPA Tier 4 funding with this easy-to-install solution.
"Cummins is pleased to offer the QST30 Tier 4 power module for locomotive retrofits. Our customers will benefit from increased performance and lower emissions with this comprehensive solution. The Cummins QST30 power module makes it easy for customers to upgrade their railroad assets to get the most out of their equipment." – said Regina Barringer, global general manager, Rail & Defense
Cummins power modules for locomotives are the perfect way to upgrade your locomotive to a clean, reliable diesel. The success of a railroad depends on maximizing the life of capital-intensive equipment like locomotives. Cummins is a recognized expert in retrofitting older units with modern engines and the installation support needed to complete projects on time with minimal downtime.
The QST30 locomotive power module was designed as a simple retrofit of a modern, environmentally friendly diesel engine. The locomotive power module will use proven SCR technology to achieve Tier 4 emissions. Cummins SCR technology is an efficient solution that reduces NOx emissions and improves fuel economy with virtually no maintenance required. Cummins Rail customers prefer the company's SCR system because, unlike exhaust gas recirculation (EGR), SCR produces much less waste heat, which reduces the load on the cooling system and power loss. It is currently being used in a number of emission reduction applications in distribution stations, ports and industrial sites. The solution will give customers the flexibility in their operations and increase the total cost of ownership that customers expect from any Cummins solution.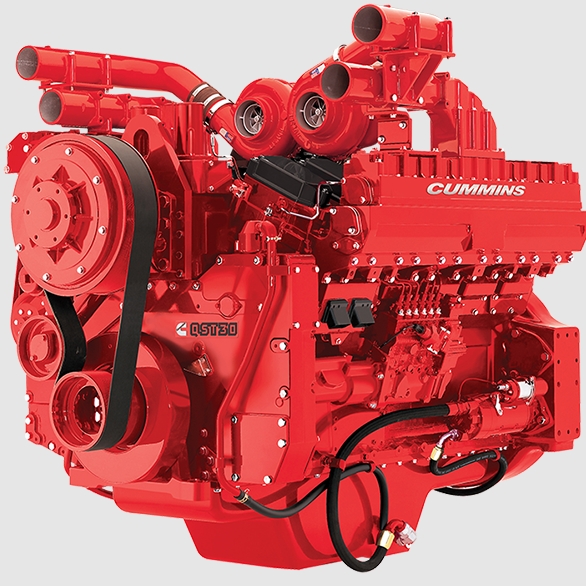 QST30 FOR RAIL
The new QST30 is one of Cummins' Quantum Series engines with innovative technology that allows you to get more for less.
The QST30 is designed to provide the operator with superior value and reliability, while meeting stringent global emissions standards.