Cummins Achieves Milestone: Production of 2.5 Million Engines at Jamestown Engine Plant
Srikanth Padmanabhan, President of Cummins' Engine Business, is optimistic about the future of natural gas and hydrogen powertrains in the trucking industry. He foresees a promising outlook and potential growth in these alternative fuel technologies.
During a recent celebration at Cummins' Jamestown Engine Plant (JEP) in Lakewood, New York, the company proudly announced the production of its 2.5 millionth engine. The engine, an X15, was showcased with black and chrome details, adding a touch of elegance to its iconic red paint.
The significant engine milestone will find its place in a Kenworth Legacy W900 truck and will be delivered to Palmer Kenworth, intended for use by First Class Services in Kentucky. This holds even more significance as Kenworth commemorates its 100th anniversary, having been in operation since 1923.
Alongside commemorating the milestone, Cummins revealed its substantial investment of $452 million into the 998,000-square-foot JEP. This investment aims to facilitate the production of the X15N, the initial member of Cummins' next-generation heavy-duty fuel-agnostic internal combustion engine family. The X15N engine, designed to harness various lower carbon fuel options such as natural gas, marks a significant advancement. Notably, it is the first natural gas engine tailored specifically for heavy-duty truck applications, capable of delivering up to 500 horsepower.
Cummins has announced that leading fleets, including Knight-Swift Transportation, Ryder, and UPS, among others, will be at the forefront of testing the initial X15N engines. As one of Cummins's prominent manufacturing facilities, JEP holds a significant position. With a remarkable 49 years of operation, over 1,500 dedicated employees, and a customer base of 1,949 active clients, JEP stands as one of Cummins's largest manufacturing sites. Cummins proudly states that JEP holds the distinction of being the largest private employer in Chautauqua County and the southern tier of New York.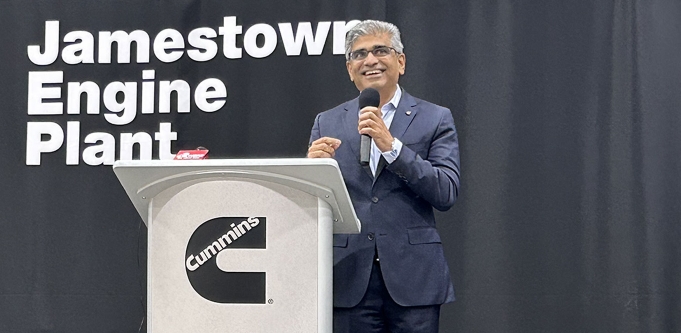 Srikanth Padmanabhan highlighted the remarkable progress made by the plant, stating:
"It took them the first 25 years to manufacture 500,000 engines, and in the subsequent 25 years, they have produced an additional two million engines from this facility."
Padmanabhan emphasized the significance of this milestone by mentioning that 50% of heavy-duty and medium-duty trucks on the highways are powered by a Cummins engine. The 2.5 million engines produced at JEP, along with the 5 million engines manufactured at the Rocky Mountain Engine Plant, play a vital role in driving the trucking industry and the economy of the United States.
Anna Dibble, Plant Manager of Cummins JEP, highlighted the impressive accomplishment of the plant, stating:
"In under 25 years, we have successfully manufactured over two million engines, encompassing a range of models such as the 11, 12, and 15-liter diesel engines, as well as the 12-liter natural gas engine."
Dibble also emphasized the production of numerous engine components, including camshafts, flywheels, cylinder heads, cylinder blocks, and various other parts that have contributed to the plant's overall success.
Powering today's trucks while looking to the next generation
Cummins has made a clear commitment to its environmental goals, aiming to achieve net-zero carbon emissions by 2050. In line with this objective, the company plans to reduce carbon emissions by 25% by 2030 compared to 2018 levels. Srikanth Padmanabhan emphasizes that a crucial initial step towards reaching these targets is to prioritize the development of lower- and zero-carbon emitting products. This includes the production of innovative engines like the X15N natural gas engine and the X15H hydrogen engine. By focusing on such sustainable solutions, Cummins aims to make significant strides in reducing carbon emissions and promoting a greener future.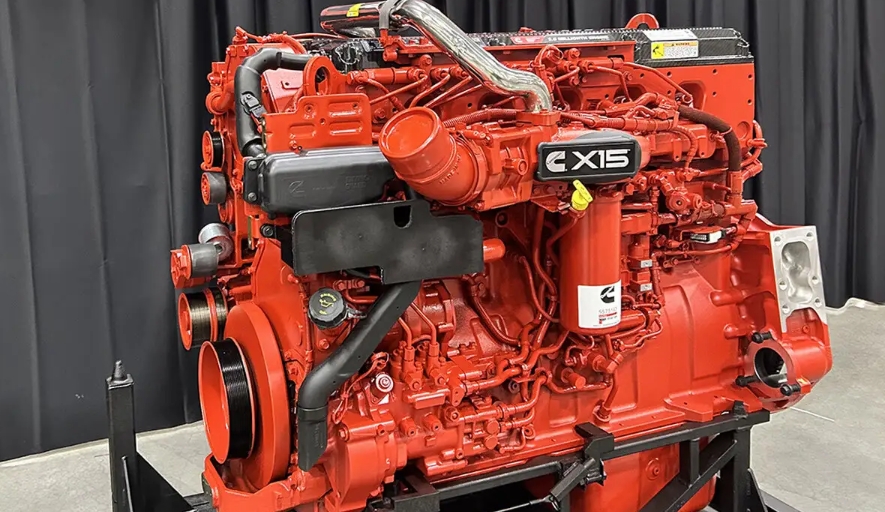 Nevertheless, he acknowledges the current reality that achieving zero-emissions trucking is not feasible for most fleets at present. Srikanth Padmanabhan highlights the concept of the "messy middle," a term coined by the North American Council for Freight Efficiency. It refers to the transitional phase between the present time and the future when the industry will extensively adopt zero-emissions technologies for freight transportation. During this interim period, the industry will need to navigate various challenges and complexities before zero-emissions technologies become widespread and practical for all fleets.
Padmanabhan acknowledges the rapidly changing world we live in, primarily driven by the urgency of climate change. He emphasizes that achieving net-zero emissions requires embracing lower carbon fuel solutions such as natural gas, biodiesel, renewable natural gas, and hydrogen. While battery-powered and fuel cell solutions are not yet fully prepared, he expresses his hope that the production of Cummins' 3 millionth engine at this plant will be a significant milestone featuring a hydrogen engine—an engine powered by a zero-carbon fuel source.
Padmanabhan emphasized that while Cummins has plans to increase the production of lower-carbon engines at JEP, it does not mean a slowdown in the production of diesel-powered engines. He pointed out that Cummins is the sole provider of natural gas engines in North America and hopes that natural gas engines will complement existing sales rather than replacing diesel engines. He further highlighted that natural gas engines are well-suited for several prominent North American fleets, including Amazon, FedEx, Walmart, Werner, UPS, Penske, Ryder, and Knight-Swift, which have set their own sustainability goals.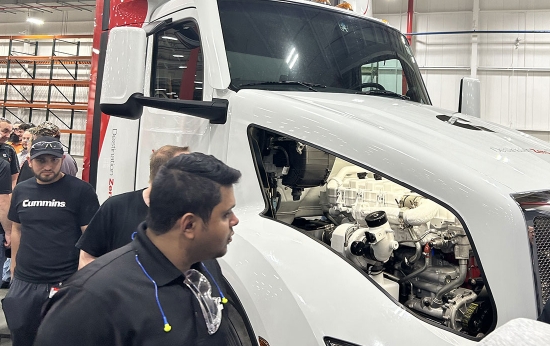 Padmanabhan noted that many of these fleets share similar sustainability goals, aiming for carbon reduction of around 20% to 30% within the next decade and ultimately achieving net-zero emissions by 2050. He mentioned that battery-electric trucks could be a suitable option for certain applications, citing PepsiCo as an example, particularly for transporting Frito-Lay chips. However, he acknowledged that battery-electric trucks may not be viable for all fleets, necessitating the use of renewable natural gas or zero-carbon hydrogen. In response to this, Cummins is now offering throttle and torque capabilities that are comparable to diesel engines, catering to the specific requirements of these fleets.
Padmanabhan expressed his belief that fleets with ambitious sustainability targets will gradually adapt their powertrain choices to align with their infrastructure needs, while also prioritizing total cost of ownership (TCO).
"The evolution of sustainability efforts will involve considerations of total cost of ownership, technology advancements, and the development of infrastructure," he explained.
"Fleets heavily rely on fuel for their operations, and transitioning away from diesel necessitates an extensive operating infrastructure, similar to what we currently have with diesel stations. We require a comparable infrastructure for battery-electric vehicles and fuel cell technologies."